2010 News

Hello Everyone,
My, how time flies. It seems like it was yesterday we were typing in 2009 Xmas letter. Snow has come early to Georgia with record lows, wind chill of ONE degree (farenheit) this morning, so you know Christmas is around the corner. What can we say, off to Columbus Ohio for Christmas Classic and the President's Cup, 3 days of racing, one day of practice and 2 days of travelling. Wouldn't miss it for the world.
JANUARY onwards: BMX racing started off at our local track with beautiful weather and a rider count of 110. Well, Georgia turned around after that and the National in February saw us racing in snow on the infield, literally setting the 4th straight on fire to dry it out, frigid weather but crazy BMXERS we raced it anyway. Had a glorious time.
Anthony and I still contract and run the Regional series, so we travel quite a bit. We have had snow, then torrential rains and tornados and finally 106 degree weather at the last Regional in Augusta. The Regional Championship at our track saw 5 inches of rain with a record turn out of 300 riders and their families for 3 days of racing . Needless to say we were exhausted after that but turned around and raced the Grand Nationals at Louisville Kentucky in September. The Robinsons did exceptionally well. Ty made his mains through semis and a tough 16 expert class to finish out the season number 6 in the USA, Dad pulled off a first place in the main, swooped and passed his opposition, finishing #2 in the country, Mom won her mains and the #1 title too. Now we all race for a new factory team Black Crown racing. All sporting our new Hyper frames, Ty and Dad traditional black, Mom sporting a purple number! You can check out our racing anytime in the archives of iHigh.com look for NBL races.
This Thanksgiving we ventured out to Morris Town TN for a national, came home with good wins and sinus infections. Those indoor tracks are brutal for breathing in dirty dirt.
Anthony and I still manage the PTCBMX track, I am still State Commissioner and am finishing my second year on the NBL Board of Directors as vice Chairman. Next years calendar is just as full. Our home track is hosting a National March 18-20, then the State series follows straight after!!! We will be traveling to North Carolina, Virginia, South Carolina, Tennessee, Florida. Alabama, Kentucky. Looking at sending Ty to the World Championship next year in Copenhagen, see where we are and how hard he trains and prepares. He is ready and has grown literally up, up and away.
Yes, in between all of this we have been on vacation to our favorite beach in Daytona. What can we say, beer, sea, sand ,food, sun in no particular order. No time to go overseas this year. Hope our crazy work/play schedule allows us to visit Mexico again, and celebrate Mike's 50th. Also have an on-the-beach wedding in Sarasota at the end of April.
Anthony turned 50 this year. That's news. He has had a bit of a rough year with injuries, torn his calf muscle, separated his shoulder, then just before the Grands, went over the handlebars and bruised his back very badly and his ribs hurt. Well, when the back started to feel less sore, he realized that his ribs were actually broken, ( yeah he wore a brace to race the Grands, and grinned and bore it ) 2 weeks later went for a regular dental check up and lo and behold he had actually broken one of molars in that loop out. Couldn't feel it because that tooth already had root canal!!!!! I tell you he hit 50 and he started falling apart. Thank goodness for good medical coverage, we will be paying off the crowns for a couple of months though!!!!! Fortunately we all have a great sense of humor. Still all racing!!
Anthony still works for Delta Airlines, the merger with NorthWest Airlines is almost complete except for the flight attendants group which are still working through the process of voting for/against union representation. The merging of computer systems went very well, there was very little negative impact to our customers and we are making profits again. We are still saying goodbye to some of our colleagues as they leave in monthly waves, some took the voluntary "early-out" package and some the involuntary. With the economy still in the malaise phase due to poor legislation and mixed signals from our leaders in Washington DC, unemployment hovers around 10%, and we can only hold on and hope something changes.
This summer, we did manage to go up to Lake Lanier with Jay and Ryan for a day of jetski, kneeboard, wakeboarding and cliffjumping (well it was 10+ feet to the water). The deRoche family is also an action family and we go MXing with them too. Riding our motorcycles has been a great stress reliever for Ty and I, we go to a track and ride and just hang out, no race to compete in, no pressure, we cook some hamburgers, and we come home dirty and tired.
We hope you are all doing well and have a wonderful Christmas and a great 2011.
Love,
Anthony, Shayne and Ty
We would love to hear what you and your family are up to, so give us a shout!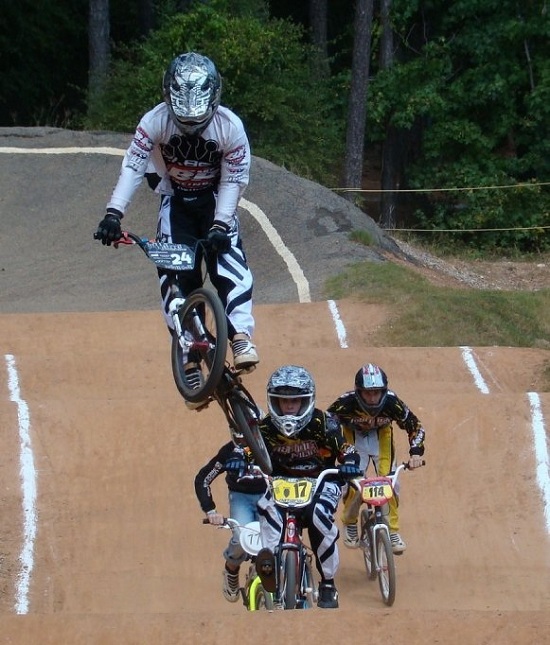 Shayne and Ant at the Grands

Shayne keeps staging organised

Ty models NBL sunglasses

Ant cleans his bike before his next race
Shayne main race, gate 8

Shayne and Ty, Daytona beach

Ant and Ty, Daytona beach

Aaahh, teenagers!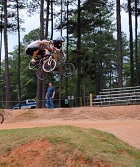 Ty and Alex goofing around on the big table jump.

Ty kneeboarding, Lake Lanier.
Ty and Co. jumping off the rock.

Regional Champs at PTCBMX - rain delay.

Trail from Mexico into Arizona - will I get lost?

District9, best SAn movie of 2010. Check out the Parktown Prawns!