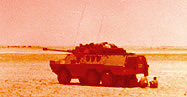 Ant's Military Notes HOME | EMAIL

Welcome!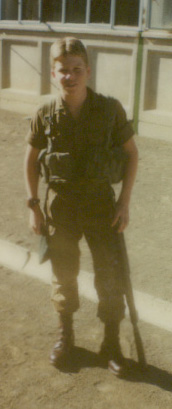 Hi, my name is Anthony. You can call me "Ant" or Antman"
I created this site to document my military experiences in the South African Defence Force (SADF) where I served with 1 SA Infantry Battalion (1SAI) and 61 Mechanised Brigade (61Mech) in 1979 and 1980. I also completed numerous camps between 1981 and 1991 with 1 Regiment de la Rey (1RDLR)
This military stuff has taken me longer than I planned, but click here to continue reading. You may also click on the image of me all cleaned up and ready for guard duty parade. To browse using the table of contents, click on Table of Contents
I would also appreciate any constructive feedback.
Thanks for visiting,
Ant.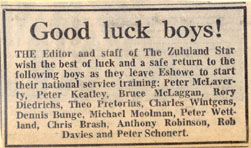 Disclaimer of sorts:
Information posted on this site may not be accurate, I have tried to capture what I thought and understood at the time. As I have aged and do more research, I have changed many of the opinions and ideas I held, I will also try to document this.
---

HOME | EMAIL | CONTENTS | PHOTOS

61 Mech motto: "Mobilitate Vincere" - Destruction of the enemy through mobility.